Writing Skills: Definition, Types and How to Improve Them
Posted On 2022-07-19

Writing Skills: Significance Of Writing Skills
There was a time when people used to think that only journalists and digital marketers must have excellent writing skills. But now, thanks to the growing importance of communication, you require effective writing skills in almost every industry and for every job.
Don't you agree? Think of the reports, sales proposals, marketing copies, user manuals presentations you have to draft regularly as a part of your work responsibilities. And, of course, how can we forget the very first step to applying for a job: a resume or CV.
There's no doubt that how well you have written your CV decides your future for that job role. A precise, neat, and engaging resume that highlights the milestones of your career, capabilities, and achievements grabs the attention of the recruiter within seconds.
Once you start work, every day at the office starts with writing as we are required to send emails to peers, managers, and clients. And that's when your writing skills come in handy. So, let's understand the basics of writing skills.
Why are writing skills important?
Writing skills are important because they allow people to communicate without being physically present. Well-written documents, reports, emails and marketing copy can persuade customers to purchase a product, convince investors to partner with a company or instil loyalty among employees. That's why these skills are in high demand in nearly every industry.
These skills also help you make a good, professional impression on others in the workplace. Many employers get their first impression of future employees through the writing abilities they display in their resume, cover letter and email communications. Clients and customers expect concise and well-intentioned correspondence from everyone they interact with at an organisation. Colleagues use professional writing abilities to share accurate information, delegate tasks and collaborate on projects.
Top Writing Skills
It's important that you get your facts straight and consider all the angles before you write –– especially if it's for academia, journalism, presentations or official company announcements. Good writers ensure the information they use is well-sourced and accurate. Being a valuable writing asset means reading closely, verifying your sources, having subject awareness and strong attention to detail!
Many companies rely on writers to create content that can persuade an audience by appealing to consumers or convincing investors. In these cases, your ability to craft a sales pitch that resonates and creates interest can be a powerful tool! Persuasiveness strategies like storytelling and emotional appeal are great to give your writing the power to influence.
Many businesses need writers who can step into a role and create advertisements, content and promotions that are in line with the brand identity and tone. It takes strong attention to detail and creativity to say fresh things in someone else's familiar voice.
If composing a message with the right tone and sensitivity is your strong suit, it could pay to mention it to employers. Word choice can make a world of difference in fields like branding, community outreach, marketing, public relations, social justice and journalism.
Editing is the most important step to ensure your writing is polished and professional. Moreso, good editing skills help your writing flow and convey all the essential information with conciseness. Editing skills are valuable because high-quality content is produced when you adhere to best practice standards, usage and writing techniques.
At the core of every good writer is an avid reader who doesn't miss a word and completely understands the underlying message. Reading comprehension is especially valuable for jobs that require you to explain large or complex topics in a simple way to readers, such as technical writing or journalism. The more you understand what you read, the easier you can explain it to others!
Writing is often compared to a journey because your goal is to get from the first sentence to the end. While every writer may have a different writing process, it should focus on effective time management. Time management shows that beyond the artistry of your craft, you have an understanding of business needs and the productivity to make it happen.
Even if you're the best wordsmith around, you must produce high-caliber work by deadline! You'll be far more likely to get the job if you convince the employer that not only do you produce good work, but you do it on time
Storytelling is a popular method to capture and hold the attention of a reader by creating interest. Once a reader is caught up in a good story, they are far more likely to keep reading until the end! This can be a powerful tool in the world of marketing and advertising.
Organizing the information you need to relay in a bite-size and digestible way makes communication more effective. Well-organized writing will greatly increase the strength and impact of your message on your audience.
Outlining
Outlining refers to your ability to plan and structure your message before you go through the process of writing it. Outlining skills can be useful because having a guide allows you to make adjustments as needed before time and resources are invested into producing a polished written product.
Create your own professional resume in just minutes.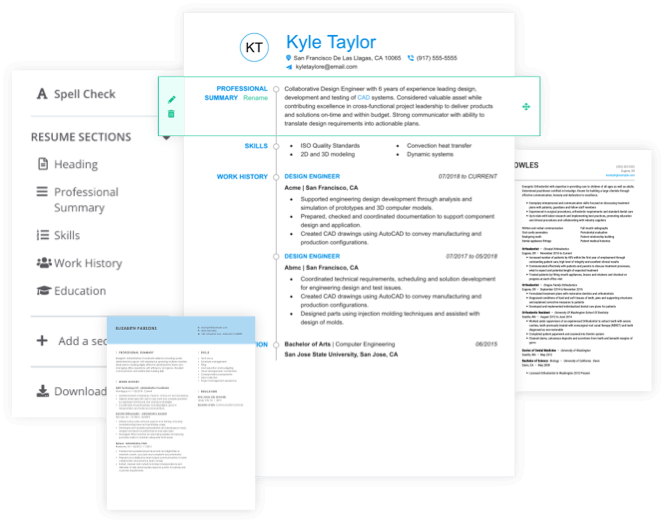 The job description or post is the tool an employer uses to let you know what they want to see in the candidate they hire –– they tell you word-by-word what they want to see in your application documents!
If you understand who the company needs to write for, what kind of content they need written and the style of writing they want –– it will help you decide what type of information you should feature from your background.
So, echo back phrases that you see in the listing if they apply to your background and skill set. This will show that you're a close reader, an effective communicator, and best of all, help you pass the applicant tracking system (ATS).
The ATS scans your resume and cover letter looking for specific keywords or phrases programmed in by the hiring company. That means a human being might not even see your application documents unless they contain some of the right phrases or keywords!
Writing skills in your resume
The second option is to mention your writing skills as part of your work experience. For instance, instead of just listing "SEO Content Writing" as a skill, you could list it as a bullet point, like this: "Executed comprehensive SEO content writing practices to achieve page one search results."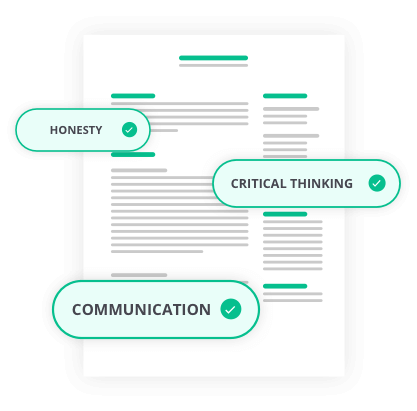 A third option is to include a link to your online portfolio underneath your email address. This is something recommended only if a portfolio is required or will give you a competitive edge, i.e., other candidates may include one for the job.
Our builder was designed by our team of career professionals to custom tailor a resume to the specific job title to which you're applying.. That way, you get some guidance and suggestions in choosing the right set of skills to include!
You can also use the builder to shave off a lot of time on the resume-writing process because it takes care of the design elements for you. You'll end up with a professional-looking resume tailored for the position you want!
Writing skills in your cover letter
A cover letter is meant to complement your resume and give extra background that may compel the employer to ask you for an interview. If your writing ability is central to the role that you're applying to, your cover letter should be on point!You need to demonstrate that you can keep a reader's attention and present information about yourself in a clear, concise and convincing manner. Give an anecdote about your writing skills that illustrates your strengths.
If possible, frame it in a problem-action-resolution setup. First, identify an obstacle you had to confront, then identify how you put your writing skills into action, and then explain the positive outcome.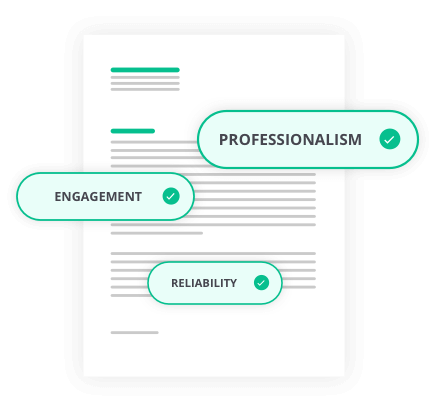 "One of my initial trial-by-fire challenges at my last job came when I was tasked with designing a short and clear button prompt for users of our social media site warning them that following a given link might lead to unverified or potentially offensive content. Working cross-functionally with our legal department, after much brainstorming, I devised an "Acknowledge and proceed" button that was seen by the platform's 14+ million users. This better informs those users and prevents substantial liability conflicts due to user-shared links."
If you want to make the writing process even easier and more focused, check out JobHero's Cover Letter Builder. You can use it to create a cover letter in minutes because it automates the pesky steps that slow you down like formatting and setting up the margins. Plus, it's got auto-suggestions for all the essentials of a cover letter so that you can be sure you're covering all the necessary bases.
Link to a portfolio
It's also acceptable to mention in the closing portion of your cover letter that you're including a link to your portfolio. Hyperlink the portfolio to make it easier for the hiring manager to see it.
You could say something as simple as: "Thank you for your time and consideration in this role. I've included a link to my writing portfolio for you to check out my work. Please let me know if I can resolve any questions. Otherwise, I hope for the chance to speak with you about this opportunity in person!"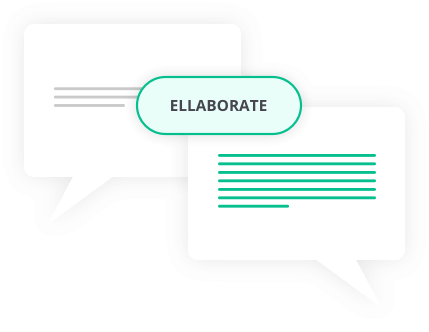 You could host the portfolio in a shared Google Doc with samples of your work. Or, if you're applying for a higher-level writing position, it wouldn't hurt to have your own website with a page dedicated as a writing portfolio.
Source:
https://harappa.education/harappa-diaries/improving-writing-skills-at-work/
https://sg.indeed.com/career-advice/career-development/writing-skills
https://www.jobhero.com/career-guides/resume/skills/hard/writing